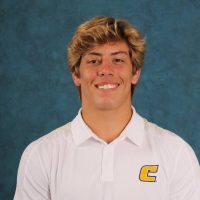 Sophomore LB Ty Boeck was tabbed Southern Conference Defensive Player of the Week for his exceptional play against Mercer this past Saturday. The Soddy-Daisy High School alum notched 12 total tackles, 2 tackles for loss, and forced two fumbles, recovering one against the Bears. 
As a first year starter, Ty Boeck leads the Mocs defense in total tackles (53), solo tackles (28), forced fumbles (2), and is third on the team in sacks (3.0). Boeck joins his teammate Marshall Cooper as the second UTC defender to receive this award.
Chattanooga kicker Victor Ulmo received a nomination for SoCon Special Teams Player of the Week for his performance this past week, but that award was ultimately given to VMI's Grant Clemons. UTC back Aliym Ford also received nominations for SoCon Offensive Player of the Week.