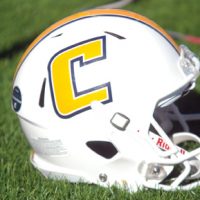 The University of Tennessee at Chattanooga football team fell behind early, but finished strong en route to a 34-17 road win against the Mercer Bears. Mercer (2-4, 1-2 SoCon) led 14-7 at the end of the first quarter, but the Mocs would do all the scoring in the second. An 8 yard rushing touchdown from Aliym Ford, and a Victor Ulmo field goal gave the Mocs (3-3, 2-0 SoCon) a 17-14 lead at the end of the half. Nick Tiano rushed and threw for a score in the second half, guiding UTC to its second conference win of the year. 
A hamstring injury did not slow down freshman RB Aliym Ford, who tallied 116 yards on the ground. Ford's 32 carries on Saturday afternoon were a career high. Moc linebacker Ty Boeck led the defense with 12 total tackles. His play has vastly improved during the start of SoCon play. The Soddy-Daisy product has notched 27 total tackles in the first two conference games of the season. Sophomore RB Jeff Wood was a nice compliment to Aliym Ford, rushing for 75 yards and averaging over 8 yards per carry in the win. Wood has seen his playing time increase due to injuries at his position. 
The Mocs are off this coming week, but will get right back into the SoCon schedule with a home game against ETSU. The Buccaneers won a share of the SoCon title last season, and currently sit at 2-4 on the year and are winless in the Southern conference. That game is set to take place inside of Finley Stadium on Thursday, October 17th at 7:00 PM.
Tune in to Press Row, weekdays from 3-6, on ESPN 105.1 the Zone to hear news and notes on the hometown Mocs.