Six SEC teams ranked among top 25 in preseason coaches poll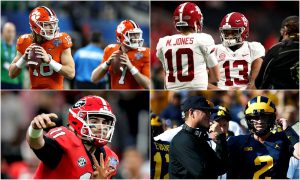 The Amway Coaches Poll was released earlier today, and there were no surprises at the top. Clemson and Alabama were ranked right where they finished last season, No. 1 and No. 2 respectively.
There was a huge SEC-flavor near the top of the poll. The Georgia Bulldogs were ranked 3rd, LSU was ranked 6th, Florida was ranked 8th, and Texas A&M was ranked 11th. There was one more SEC team ranked, and it was Auburn at No. 16.
Oklahoma was the highest ranked Big 12 team at No. 4, as the four-time defending conference champions bring in graduate transfer QB Jalen Hurts from Alabama. Ohio State came in as the highest ranked Big 10 team at No. 5, as they head into year one of the Ryan Day-era. The defending Pac-12 champ Washington Huskies were the highest ranked team from their conference, coming in at No. 12.
Although the SEC had six teams in the top 25 rankings, that was not the most. The Big 10 led the way with seven teams in the poll. The Pac-12 had five teams in the rankings, the Big 12 had three, and the ACC had only two.
See the full rankings below
Clemson (ACC)
Alabama (SEC)
Georgia (SEC)
Oklahoma (Big 12)
Ohio State (Big 10)
LSU (SEC)
Michigan (Big 10)
Florida (SEC)
Notre Dame (Independent)
Texas (Big 12)
Texas A&M (SEC)
Washington (Pac-12)
Oregon (Pac-12)
Penn State (Big 10)
Utah (Pac-12)
Auburn (SEC)
Wisconsin (Big 10)
UCF (American)
Iowa (Big 10)
Michigan State (Big 10)
Washington State (Pac-12)
Syracuse (ACC)
Stanford (Pac-12)
Iowa State (Big 12)
Northwestern (Big 10)