Go-to receiver Bryce Nunnelly garners more preseason accolades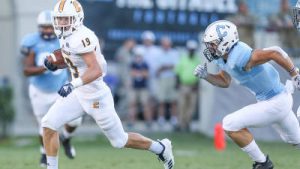 The Chattanooga Mocs' Bryce Nunnelly had one of the top seasons of any wide receiver in FCS football in 2018. That incredible season has resulted in him being the recipient of several different preseason accolades heading into the 2019 season. The most recent of which includes being named a Second Team All-American by STATS (see the full team here).
Nunnelly, a rising junior, was also voted to the First Team All-SoCon earlier in the month at SoCon Media Day. As a sophomore Nunnelly ranked 2nd in the SoCon and 6th nationally averaging 112.5 yards per game, totaling 1,237 yards and seven touchdowns on the season.
Nunnelly played high school ball at Walker Valley High School in Bradley County.