Reds-Indians-Padres trade includes Taylor Trammell being sent to San Diego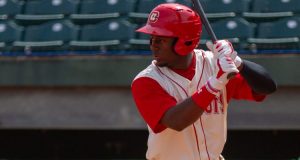 Taylor Trammell went 1-for-4 at the plate last night, as the Chattanooga Lookouts picked up the win vs. the Tennessee Smokies. Little did Trammell know, it would be his final game in a Lookouts uniform.
Trammell, who is the No. 14 ranked overall prospect in all of the minor leagues, was sent to the San Diego Padres as a part of a 3-team trade that included several moving parts.
In the deal, the Cleveland Indians receive outfielder Yasiel Puig from the Reds (another former Lookout), and Franmil Reyes from the Padres. The Reds received right-handed pitcher Trevor Bauer from the Indians. The Padres got Trammell from the Reds (the parent club of the Chattanooga Lookouts).
The Indians also received left-handed pitcher Logan Allen and minor league infielder Victor Nova from the Padres, and minor league pitcher Scott Moss from the Reds.
In 94 games this season for the Lookouts, Trammell hit .236 with a .349 on-base percentage. He had six home runs, 33 RBIs, eight doubles, three triples, and 17 stolen bases.