Chattanooga picked to finish 4th in SoCon by coaches, 5th by media for 2019 season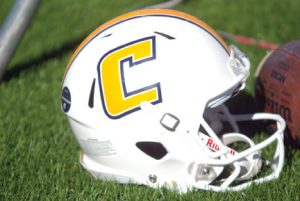 The SoCon Media Day took place in Spartanburg, SC yesterday, and alongside first-year head coach Rusty Wright, senior QB Nick Tiano and junior DB Jerrell Lawson represented the Chattanooga Mocs.
During SoCon Media Day, the preseason teams and predicted order-of-finish were announced. The Mocs had six players named to preseason teams overall – four to the First Team, and two to the Second Team.
Junior WR Bryce Nunnelly was the lone representative on the All-SoCon First Team Offense, after finishing second in the conference last season with 112.5 yards per game, becoming only the fourth player in Mocs history to eclipse 1,000+ yards receiving.
Joining him on the All-SoCon First Team were a trio of defensive standouts – senior LB Marshall Cooper, Jerrell Lawson, and junior DB Brandon Dowdell. Cooper was third in the SoCon last year, averaging 8.9 tackles per game. Dowdell was a first team pick by the league's coaches in 2018, posting three interceptions and six pass breakups.  Lawson started the season as a defensive back, but moved up to linebacker the last eight games.  He was fourth on the team with 53 tackles, including 2.5 sacks and 4.5 tackles for loss.
Senior RB Tyrell Price  and junior OL Cole Strange were both second team offense selections on the preseason squad.  Price was a second team All-SoCon choice by the league's media last season when he led the team with 63.4 rushing yards per game.  Strange started all 11 games at left guard and was also a second team All-SoCon pick by the league's coaches.
See the predicted order of finish below.
Coaches
# Team (first-place) – Points
1. Wofford (7) – 63
2. Furman (1) – 55
3. ETSU (1) – 44
4. Chattanooga – 40
5. Mercer – 34
6. Samford – 33
7. The Citadel – 22
8. Western Carolina – 21
9. VMI – 12
Media
# Team (first-place) – Points
1. Wofford (21) – 253
2. Furman (6) – 229
3. ETSU (2) – 187
4. Mercer – 146
5. Chattanooga – 134
6. Samford – 125
7. The Citadel – 111
8. Western Carolina – 88
9. VMI – 32