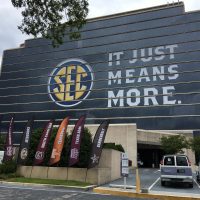 David and I arrived to Hoover, Ala., this morning around 10:45 a.m., Central, and successfully checked in to the luxurious Hyatt Regency Birmingham – The Wynfrey Hotel. Man, that's been a mouth full to say ever since The Wynfrey was rebranded as a Hyatt property back in 2013. Everyone on radio row hates to say it on-air. Jay made the solo trek to Hoover in his 2004 Tahoe that looks almost as bad as it smells. Yes, I can confirm that he is on the premises and that he traveled down I-59 south with a cooler of Red Stripe — like his coaching idol Buttermaker from Bad News Bears — in his back seat. Allegedly.
On to other news.
SEC Media Days 2019 is here. Thanks to Ruby Falls, The Kickoff, Educational Outfitters, Bath Fitter and Capital Toyota for making our trip and coverage possible. Another opportunity for the league to flex its muscles, while beat writers tap away at the keys on their laptops, radio personalities fill their airwaves and television people stand around looking pretty.
This year marks my eighth at SEC Media Days of the football variety. I'm now 31 years-old and I now fully understand this event for what it truly is. It's a hype event. Nothing more, nothing less. You don't learn much at Media Days outside of a couple minor league announcements and there's really no breaking news. So why watch, listen or read SEC Media Days coverage you might ask. It's simple. You watch, listen and read about the four-day event in Hoover because we've been stuck in a rather boring stretch of sports and you can't wait for the return of college football in the SEC. That's it.
Despite the monotonous nature of SEC Media Days, I was interested to learn that SEC Football Media Days will return to Atlanta next year and make its Nashville debut in 2021. We posted a story on the announcement by SEC Commissioner Greg Sankey earlier today and you can read it here. I guess the SEC wants a taste of the success the NFL experienced when it hosted the 2019 NFL Draft in Music City earlier this year. I'd make a hefty wager that's the biggest news we get all week. Once again, you don't learn much at SEC Media Days. Here's to hoping a player and or coach goes on a 10-minute diatribe later in the week.
In truth, we all know SEC Media Days will never pack the same punch as the NFL Draft, but I applaud the league for branching out within its own footprint and doing something that's been bantered about dating back to my first Media Days. If you're going to host an event that consistently fails to produce meaningful headlines, the least you can do is move it to a vibrant city to keep those covering the event slightly entertained.
So far, we've heard from commissioner Greg Sankey and Missouri's contingent, and Florida's Dan Mullen, LSU's Ed Orgeron and players representing both teams are currently making the rounds upstairs in the media rooms.
Day-two will feature SEC Coordinator of officials Steve Shaw and players and coaches from Georgia, Ole Miss, Texas A&M and Tennessee. Georgia and Tennessee on the same day. Sign me up.
Stay tuned to ESPN 105.1 The Zone this week as Press Row broadcasts live from radio row at #SECMD19 here at the Hyatt Regency Birmingham – The Wynfrey Hotel. I even hate typing it. Don't forget to check out David and Jay's interview with LSU All-American safety Grant Delpit.
More podcasts and #SECMD19 content coming soon.