Gators running back Lamical Perine makes headlines at SEC Media Days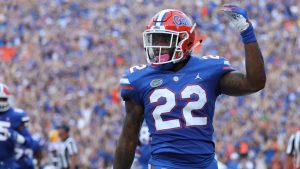 The Florida Gators' RB Lamical Perine made several headlines during his day spent at SEC Media Days in Birmingham.
He made comments about his recruitment by Auburn and Alabama; saying Auburn told him he was "slow", and that he turned down Nick Saban's offer when Alabama tried to flip his commitment to Florida.
To wrap up the day, Perine topped it off with some comments on the Florida-Tennessee Rivalry (or lack there of in his opinion).
What does Florida tailback Lamical Perine think about Tennessee?

"I wouldn't say it's a rivalry. It's just another game. I wouldn't call it a rivalry. LSU, that's a rival game. We look at Tennessee like it's just another game."

Gators have won 13 of last 14 over the Vols.

— Jesse Simonton (@JesseReSimonton) July 15, 2019
Needless to say Lamical Perine has established himself as one of the most outspoken players in the SEC.