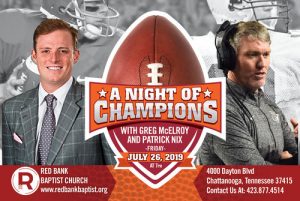 Former Auburn quarterback and current Pinson Valley High School head football coach Patrick Nix joined Press Row on Friday, July 12 before his trip to Chattanooga to serve as one of the featured speakers at Red Bank Baptist Church's A Night of Champions event later this month.
Nix graduated from Auburn University in 1995 as the school's career leader in passing efficiency. He is the father of five-star freshman quarterback Bo Nix, who is competing for the starting job this season at Auburn.
Patrick Nix – Press Row
Friday, July 12
You are invited to a Night of Champions this summer at Red Bank Baptist Church. You will hear from Greg McElroy, a former quarterback at The University of Alabama, and Patrick Nix, a former quarterback of Auburn University, talk about their stories, struggles, and testimonies both on and off the football field.
It will be a fantastic night for anyone who plays, watches, or is passionate about football. You will learn what it takes to be at the top of your game and a disciple of Christ.
Purchase your ticket(s) by July 19 to receive a FREE Chick-fil-A meal with every $20 General Admission Ticket.  Limited VIP tickets available for $50 which includes Edley's BBQ meal and autograph session with either Greg McElroy or Patrick Nix.
PURCHASE TICKETS HERE OR CALL (423) 877-4514