Blueprint renderings have leaked on social media showing possible plans for a Top Golf location in East Ridge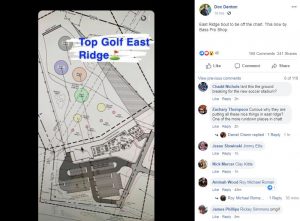 East Ridge could be on the brink of another big announcement. Earlier this week they broke ground on a $125 million development that will include the Chattanooga Red Wolves new stadium. Well, blueprint renderings have surfaced on Facebook that show plans for a Top Golf behind the Bass Pro Shops in East Ridge.
Nothing has been confirmed at this point, but obviously this would be a huge boost in entertainment for the Chattanooga metro area, specifically those that live in East Ridge, Brainerd, Ooltewah, and North Georgia areas, as it is much more conveniently located for those communities than downtown is.