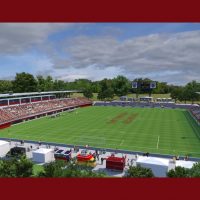 Earlier today, Chattanooga Red Wolves owner Bob Martino and several other elected officials broke ground on the team's future stadium. The project will become a $125 million project, which will include a brand new professional soccer stadium and a surrounding mixed-use development.
"The groundbreaking of this innovative facility is an exciting step forward for sports fans across the state and the city of Chattanooga," said Governor Bill Lee. "Chattanooga is already a world-class destination for tourism and business, and this new growth will only add to the city's attractive destinations and economy. We commend Bob Martino and the Red Wolves Soccer Club for choosing to invest in Tennessee."
The facility is being built in East Ridge along I-75 South and will feature a state-of-the-art, soccer-specific stadium, housing, shops, restaurants, a hotel, and expansive greenspaces and trails.
"From my first day in Chattanooga, I have been looking for an opportunity to unite my passion for sports and real estate, and today I'm seeing a dream come to life for a community centered around sports. This development will be here for a long time, and generations of families and fans will create lasting memories here," said Martino. "People want to live in an area offering a great quality of life, and by providing live, work and play opportunities, we are creating an unparalleled experience for people in East Ridge, Chattanooga and beyond."
With the idea in mind of creating an experience around soccer, Martino's plans include apartments and condominiums so people can live nearby the stadium, walk to events, and enjoy dining and shopping in the neighborhood. The plan will include 400 apartments and condominium units, 375 hotel rooms, 475,000 square feet of commercial space. The economic impact will span the region with the creation of 1,200 new jobs, not including construction and other businesses.
"This is an exciting time in East Ridge and Hamilton County and a historic investment for this town," said Mayor Jim Coppinger. "We're encouraged by the activity and interest in this corner of Hamilton County, and we know this investment will be felt throughout our county as people travel here to attend games, shop and dine."
Built over the next three to five years, the property is expected to generate between $6 and $7 million in tax revenue each year. The 100-acre property is within the city limits of East Ridge and Chattanooga. Martino also has plans for a trail running under I-75 to connect the stadium and the team's training center at Camp Jordan, which will also increase connections for people in the area. Because the stadium layout is soccer specific, it will offer an incredible, up-close experience with amenities like concessions, merchandise, VIP boxes, and special areas for fans and families. The stadium will house staff offices, lockers, and spaces for the team to meet, review film, and train.