Incoming Baylor School transfer stays home, commits to Tennessee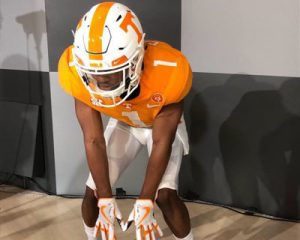 In the span of less than a week, the Tennessee Volunteers have landed 3 in-state commitments. On Friday, 4-star Knox-Catholic OL Cooper Mays committed, followed by 4-star Ensworth (Nashville) DB Keshawn Lawrence on Monday.
The latest came yesterday afternoon from Baylor School RB/DB Elijah Howard. Howard, a rising junior, played his freshman and sophomore years at Webb School in Knoxville before transferring to Baylor this off-season. He is 5 feet, 11 inches and 183 lbs, ranked 54th nationally among running backs in the 2021 class, and the 23rd overall player in the state of Tennessee. He is officially listed by online recruiting services as an "athlete" though, as he starred on both sides of the ball for Knox-Webb last season.
He announced his commitment via Twitter yesterday.
Committed..🖤 pic.twitter.com/ZpQAegbDpL

— Elijah Howard (@e_izzy03) June 25, 2019
Howard was recruited by both Vols Offensive Coordinator Jim Chaney, and Defensive Coordinator Derrick Ansley. He also had offers from Mississippi State, Purdue, Tulane, and Virginia. He finished the 2018 season with 1,243 yards of total offense, and defensively had 55 total tackles (33 of them solo), and 3 interceptions.
He should be a huge boost to the Baylor Red Raiders' roster for the 2019 season, as they come off of a 4-7 record in 2018.
Check out his 2018 season highlights here.