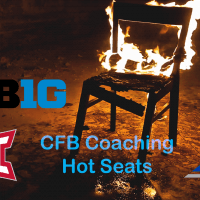 Before every football season begins, one of the most talked about questions is "who might lose their job this year?". Each season brings new expectations based on the previous season and off-season moves. If coaches can't meet those expectations, then their "seat" will grow hotter, and hotter, until they're finally fired and the search begins for the next coach. Who has the hottest seat for the 2019 season? Stay tuned in to this series as we go conference by conference looking at the coaches who are closest to losing their jobs.
---
SEC
The SEC has been considered by many to be the deepest conference in the country for the past decade. It is also home to one of the greatest dynasties in the history of college football. Alabama, though suffering an embarrassing loss to Clemson last year, is still considered to be the team to beat by many. Georgia looks to maintain dominance over the East and will be seeking a return to the CFB Playoffs. A handful of traditional powerhouses have new coaches looking to return their programs to their former glory. Several coaches feel their seats getting warmer as their time is running out to become the next challenger to the Crimson Tide.
Gus Malzahn
It's been quite the up-and-down career for Malzahn at Auburn. He's made a bowl game every year, but only two of those years he has made it to the SEC Championship Game. He made it to the BCS Championship Game in 2013, but that was his first season. Since then, he has had 4 seasons where his team had 5 or more losses. There has been only one other time he's gotten to 9 or more wins. The 2018 campaign saw a 7-5 finish to the regular season, the second worst of his career. To make things worse, his contract guarantees him a massive buyout, which may have been a big reason Auburn didn't fire him last season. It won't be enough to save him with a similar record this season however. Malzahn will need to compete in the West all the way up until the Iron Bowl.
Will Muschamp
Year 3 was supposed to be a big one for Muschamp's gamecocks. Instead, South Carolina limped into the Belk Bowl with a 7-5 record and proceeded to be shut out by Virginia. It was a forgettable season for fans, but for Muschamp it may have been the season that leads to losing his job. The Gamecocks aren't a traditional powerhouse, but they would like to see another level of competition against their SEC foes. Another 7-6 finish may spell doom for Muschamp, but if he can get back to 9 wins or more, then he may just make that 2018 very forgettable for everyone.
Chad Morris
It wasn't a very hot hire last offseason, but nobody expected anything that ugly. 2-10 under any circumstances would be fireable at many places in the SEC. The pressure cooker is heating up for Morris now, and he will have to show major improvements and competitiveness against SEC opponents. He may have inherited a mess, but 2-10 is unacceptable, especially a second time. A bowl game would ease up the pressure quite a bit, but he still may be able to buy himself another with at least 4 wins. It's not entirely impossible either. Morris went 2-10 in his first year at SMU as well, and followed that up with 5-7 and 7-5 records. If he can repeat the improvements he made there, he should find himself safe.
Matt Luke
Luke did a good enough job keeping the ship afloat, but now the NCAA sanctions are over. Bowl eligibility is on the line, and the wins need to start coming now. Luke has had a couple years of grace to recruit and build his team, and even though the win-loss record didn't matter too much, they haven't given much hope for some competition. Luke has led the Rebels to 6-6 and a 5-7 seasons. Not horrible, but not great. Winning will be a must this season, and if he can't make a bowl game this year, in year three, then he likely won't see another year.
Special Mention: Jimbo Fisher
Jimbo Fisher doesn't make the hot list of course, not after a 9-4, 2nd place division finish in Year One. However, a 10 year, $75 million contract will put pressure on Fisher every single year. Division titles will be expected, as will a conference championship at some point and some Top 10 finishes. If he can't deliver soon, the warm fuzzies will be boiled away and Jimbo Fisher may be shown the door at Texas A&M.
---
Check out our other hot seat lists in the imbedded links below:
Written by Dylan Vogel, ESPN Chattanooga Contributor