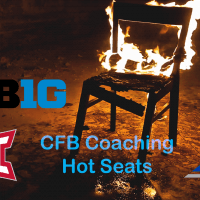 Before every football season begins, one of the most talked about questions is "who might lose their job this year?". Each season brings new expectations based on the previous season and off-season moves. If coaches can't meet those expectations, then their "seat" will grow hotter, and hotter, until they're finally fired and the search begins for the next coach. Who has the hottest seat for the 2019 season? Stay tuned in to this series as we go conference by conference looking at the coaches who are closest to losing their jobs.
---
ACC
The ACC was by far the least competitive conference in the country last year, and it has arguably been that way for the past couple of years. With Clemson claiming the position as the conference power house, no team other than Syracuse finished with 10 wins, and only 'Cuse and Pitt finished with at least 6 conference wins. With traditional powers like Miami and Florida State, it's only a matter of time before the landscape changes. That time will come, especially with the hire of so many new coaches across the conference. But for now, Clemson is entrenched at the top, and the rest are just trying to get close.
Willie Taggart, Florida State
Florida State's 2018 campaign was one of the more embarrassing and talked about ones in the country last year. One of a few historic powerhouses that have recently hit the bottom of the cellar, the Seminoles missed out on a bowl game for the first time in almost 40 years. Coaches almost always have a grace period during year one, but the situation with injuries, specifically the offensive line, was a problem that Taggart desperately needs to fix to save his job. The blame may be far more deserved to be placed on the previous staff, but if there are no improvements with his own guys that he brings in by year three then the 'Noles will be looking for a new coach.
Justin Fuente, Virginia Tech
When Justin Fuente was hired in 2016 out of Memphis, he was one of the hottest coaches in the country. He didn't waste anytime in year one with Virginia Tech either, leading them to a 10-4 season with an ACC title game berth, a near win against Clemson, and a win against Arkansas in the Belk Bowl. Year two wasn't as successful, but the Hokies still got to a 9-4 record. It's unraveled very quickly in Blacksburg. In year three, Fuente and Virginia Tech finished with a loss against Cincinnatti to drop to 6-7, the first losing season since 1992. He probably isn't in immediate danger of losing his job, but if he can't make improvements on defense and stay competitive in the lack-luster ACC, he'll soon find his seat getting quite hot.
Patt Narduzzi, Pitt
I would call it more of a "warm seat", but nonetheless Narduzzi makes this list. Yes, he led Pitt to a division title and a berth in the ACC Championship game. He did so with a 7-7 record, and he lost his last three games of the season after being up 7-4 . He has also gone 12-14 in his last two seasons. His saving grace is that division title right now, but he'll need to compete for another or at the very least build on his win total if he wants his seat to cool down even more.
---
Check out our other hot seat lists in the imbedded links below:
Written by Dylan Vogel, ESPN Chattanooga Contributor