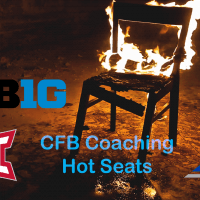 Before every football season begins, one of the most talked about questions is "who might lose their job this year?". Each season brings new expectations based on the previous season and off-season moves. If coaches can't meet those expectations, then their "seat" will grow hotter, and hotter, until they're finally fired and the search begins for the next coach. Who has the hottest seat for the 2019 season? Stay tuned in to this series as we go conference by conference looking at the coaches who are closest to losing their jobs.
---
Big 12
The Big 12 right now has no coaches on a true hot seat, mainly because four of the ten schools saw new coaches hired last year. Les Miles, Chris Kleiman, Matt Wells, and Neil Brown are all going to be in year 1 at their respected programs, so they will be safe from the hot seat for another year. Other schools, such as Oklahoma State and TCU, have long tenured coaches going back 10+ years, so they are also unlikely to be leaving soon. Then you have the young stars like Lincoln Riley and Matt Campbell, both of whom were rumored to be looking at bigger jobs in the offseason. Most of the conference is as safe as safe can be, but what about the coaches on the fringe?
Tom Herman, Texas
Expectations will always be high at a storied program such as Texas, and the fans are getting restless. Herman isn't on the hot seat, especially after the 28-21 downing of Georgia in the Sugar Bowl, but that means expectations for Herman himself have not been higher. He will have to improve from a 9-3 regular season record, and defeating Oklahoma to claim a Big 12 Title will be a very nice security blanket. If he repeats or slips up, he will be on the hot seat going into next season.
Matt Rhule, Baylor
It's hard to say that a guy that improved his win total by 6 games in one year is on the hot seat, and I'm not saying that at all. Matt Rhule is extremely safe right now, but by improving his win total by so much in one year, expectations will be at improvement or bust for the Bears. Any steps backward will be forgiving at first, but no bowl game will push him into the hot seat for the 2020 season.
---
Check out our Pac 12 Hot Seat list here.
Check out our Big 10 Hot Seat list here.
Written by Dylan Vogel, ESPN Chattanooga Contributor