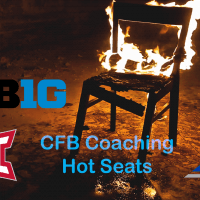 Before every football season begins, one of the most talked about questions is "who might lose their job this year?". Each season brings new expectations based on the previous season and off-season moves. If coaches can't meet those expectations, then their "seat" will grow hotter, and hotter, until they're finally fired and the search begins for the next coach. Who has the hottest seat for the 2019 season? Stay tuned in to this series as we go conference by conference looking at the coaches who are closest to losing their jobs.
---
Big Ten
The coaching landscape of the Big Ten seems a little bit empty with Urban Meyer retiring this past season. Ryan Day will be inheriting loads of talent, but will he be able to replicate Meyer's success in Columbus?  Will other teams step in to topple OSU from their Big Ten pedestal? Or will most of the conference struggle to catch up, burning through various coaches along the way.
Chris Ash, Rutgers
Rutgers isn't exactly a sleeping national powerhouse (they have a less than .500 all-time record), but a coach with a 7-29 record over three seasons isn't going to last much longer. Ash had an abyssmal 2-10 inauguarl season before improving to 4 wins the next year in 2017. Last year however, he went 1-11, and 0-9 in conference play. Even a program like Rutgers won't have much patience for a coach who hasn't been close to sniffing a bowl. Getting back to four wins at least should secure his job for now, anything less though will likely be the start of a head coaching search.
Lovie Smith, Illinois
Lovie Smith has had his struggles getting close to a bowl game as well, but a 4-8 finish last season provided some momentum and some more security for the 4th year head coach. He's gone 9-27 in three seasons, but the recent improvement has made him relatively safe…at least for now. Illinois is a program that has several national and conference titles in its trophy case, and an above .500 program record. Multiple seasons of not going bowling is unacceptable for most programs, but Illinois is a tier up from that and will want a little more. Smith will have to show rapid improvement, and keep improving.
Tom Allen, Indiana
Indiana is not the same level of program in football that they are in basketball, but like stated above, bowl games are the standard. Tom Allen took over as interim head coach for the Hosiers for one game in 2016, and was named the official new head coach despite losing his lone game that season. He hasn't been overly disappointing, but his two first seasons have ended with losses to Purdue while bowl eligibility was on the line. A step or two backwards from here may break Indiana's patience, another 5-7 year may buy him at most one more season, and a bowl game appearance would make him a safe coach.
Jim Harbaugh, Michigan
Seeing Jim Harbaugh on a hot seat list probably brings some polarizing views. Many fans (some Michigan and some college football fans in general) believe Harbaugh has been a major underachiever at Michigan, one of the most storied programs in the country. One side points to the fact that he has had three 10-win seasons and has a 38-14 record. The other side will point to his inability to defeat Urban Meyer and Ohio State, and make it to a conference championship game. Regardless, Harbaugh will be expected to finally get over that hump now that Meyer is gone and the new head coach of the Ohio State Buckeyes is a first-ever head coach. If he loses again this year, that seat is going to start getting very warm.
---
Check out our Pac 12 Hot Seat list here.
Written by Dylan Vogel, ESPN Chattanooga Contributor