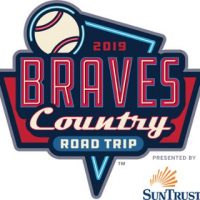 The Atlanta Braves Country Road Trip will visit Chattanooga as part of a five-city tour across the Braves six-state footprint. The team will host a variety of activities in each city, including the Braves' Swing into Summer school's out bash at Miller Park in downtown Chattanooga, Tenn. on Thursday, May 23. The event begins at 3 p.m. ET and features a watch party as the Braves and Giants square off in San Francisco with a 3:45 p.m. ET scheduled first-pitch. Braves mascot BLOOPER and the club's entertainment team will be in attendance.
Braves Country Road Trip
May 21 – Charlotte, N.C.
May 22 – Greenville, S.C.
May 23 – Chattanooga, Tenn.
May 24 – Nashville, Tenn.
May 25 – Birmingham, Ala.
"Our fans throughout Braves Country are an integral part of our team and we wanted to show our appreciation by bringing the Braves to their city," said Derek Schiller, Atlanta Braves President and CEO. "The Braves Country Road Trip is a way to bring a piece of Atlanta and SunTrust Park to them."
Throughout the road trip, the Braves and SunTrust will surprise fans with the chance to win a variety of prizes, including Braves tickets, apparel and other promotional items. Stop by these two local SunTrust locations for your chance to win.
SunTrust (Northgate)
1969 Northpoint Blvd, Hixson, TN 37343
SunTrust (Lee Highway)
7001 Lee Hwy, Chattanooga, TN 37421
Ticket Packages & More Information (via Official Braves Press Release)
The Braves also have an exclusive Road Trip ticket package available. Fans can choose from eight games at SunTrust Park and a customized poster featuring one of the five cities on the Braves Country Road Trip. For images of the posters, please click here.
For more information on the Braves Country Road Trip or to purchase tickets, please visit www.braves.com/RoadTrip.