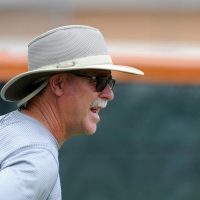 Dade County High School announced Monday that they have hired Dale Pruitt, the father of University of Tennessee's Jeremy Pruitt.
The hire takes place after former Dade County head coach Bradley Warren stepped down and accepted an offer from McIntosh County after finishing 47-68 at Dade.
Dale Pruitt has been coaching high school football since 1982, and has compiled a record of 289-138 at 5 different schools. He has reached the state playoffs 25 times in 38 seasons, won 13 region championships, appeared in a Class 3A Championship game twice., and led four of his teams to undefeated regular seasons.
Pruitt has spent the majority of his career coaching at North Alabama schools such as his Alma Mater, Plainview, where he coached for two separate stints for a total of 25 years. He had a brief run at Marion County from '04-'05, and being hired at Dade County makes three different states Pruitt has coached in.
"Over the years I've played against Dade County teams and was always impressed with how tough they were," Pruitt told the Chattanooga Times Free Press. "I believe we can compete here. I like the atmosphere and the excitement around the program, and I'm very humbled and thankful for the opportunity.
---
Written by Dylan Vogel, ESPN Chattanooga Contributor