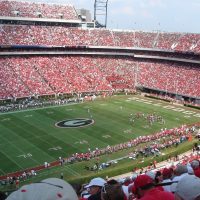 The University of Georgia is planning to name their football field to honor Hall of Fame former Bulldogs coach Vince Dooley. The process still needs to be approved by the Board of Regents, but Georgia's opening game against Murray State is being planned to be the official ceremony to commemorate the field as Dooley Field at Sanford Stadium.
Vince Dooley played quarterback and briefly served as an assistant coach at the University of Auburn before taking the head coaching position at Georgia in 1964. He coached the Bulldogs until 1988, accumulating a 201-77-10 overall record, an 8-10-2 Bowl record, 6 SEC Championships, and 1 National Championship in 1980. He has been awarded 10 COY awards, and has been inducted to the Alabama Sports HOF, the Georgia Sports HOF, the Florida-Georgia HOF, and has won countless awards since his retirement for his coaching achievements. Dooley also served as the Athletic Director at Georgia from 1979-2004.
The 86 year-old Dooley currently serves as a consultant for Kennesaw State.
---
Written by Dylan Vogel, ESPN Chattanooga Contributor