University of Richmond head football coach and friend of the show Russ Huesman joined Press Row on Friday, April 26 to review the first-round of the 2019 NFL Draft and preview rounds two-seven.
Huesman, who led the University of Tennessee at Chattanooga to three SoCon titles and three FCS Playoff appearances during his tenure (09′-16′), is a self-admitted draft fanatic.
Quarterback Kyle Lauletta served as the starter during Huesman's first season at Richmond and was selected in the 4th round of the 2018 NFL Draft by the New York Giants.
While at UTC, four of Huesman's players were selected in the NFL Draft.
2017 – OL Corey Levin (Rd.6 – Tennessee)
2015 – OLB Davis Tull (Rd.5 – New Orleans)
2012 – QB B.J. Coleman (Rd.7 – Green Bay)
2011 – DB Buster Skine (Rd.5 – Cleveland)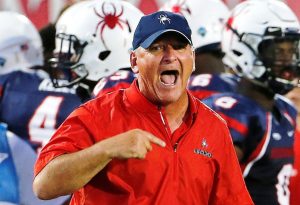 Russ Huesman – Press Row
Friday, April 26