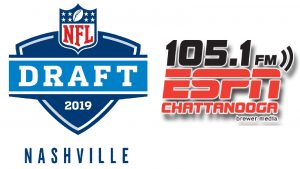 ESPN 105.1 The Zone will provide live coverage of the 2019 NFL Draft from Nashville, TN on Thursday, April 25 thanks to Tanslee Outdoor Power Equipment. The second hour of the Stephen A. Smith Show will air in place of The Local Zone with Brooks Carter, but Brooks will provide his listeners with live reports from Nashville from 2-3 p.m. ET.
Live coverage from the 2019 NFL Draft will continue during Press Row from 3-6 p.m. ET. Wells Guthrie and Brooks Carter will join David Paschall and Jay Greeson on-air periodically throughout the show to provide live updates from the NFL Draft Experience surrounding Nissan Stadium, Selection Square at the Schermerhorn Symphony Center and downtown at the Draft Main Stage located at First and Broadway.
Press Row's live NFL Draft reports will air at 3:35 p.m., 4:35 p.m. and 5:35 p.m. ET.
Visit Tanslee Outdoor Power Equipment at their Spring Open House Event, April, 25-27.  Great savings on the names you trust and the outdoor products you love. Tanslee Outdoor Power Equipment is located at 8103 Standifer Gap Rd, Chattanooga. Give them a call today at (423) 777-5702.
For more information on the 2019 NFL Draft click here.