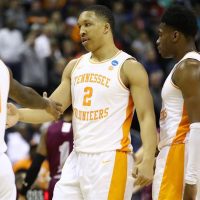 With Jordan Bone announcing his decision to begin the process for the NBA Draft, it added another possible draft pick for the Volunteers. With Schofield and Alexander graduating, and Grant Williams yet to announce his decision, we could see 4 out of the 5 starters depart from the Vols this offseason. How will they do in the 2019 NBA Draft?
Grant Williams
According to online draft boards, Williams is the highest rated player on this Tennessee team. While he doesn't have as much athleticism as many other high prospects, he has valuable experience, leadership qualities, toughness, and IQ. He is a two-time SEC POY, an NCAA All-American, and is a finalist for the Wooden Award. Many mock drafts place him late in the first round or early second round at the latest, but Williams has yet to officially announce his entry into the Draft.
Admiral Schofield
After returning to school for his Senior season, it is no surprise to see the Admiral get more national recognition. He has raised his draft stock over the past several months, and is now a consensus early second round pick by several mock drafts. During the season we saw him rise as high as a mid-first-rounder, so it wouldn't be surprising if an NBA front office sees him as that kind of talent and goes for him earlier than projected. Schofield averaged 16.5 ppg, 6.1 reb, 2.0 ast, and 47.4 FG% this past season.
Jordan Bone
Jordan Bone announced his intention to enter the NBA Draft earlier this week, but it is possible he is leaving the door open to return next season like Admiral Schofield did a year ago. Although he is not projected to go in the first two rounds by NBA mock drafts, many experts believe he has first-round talent. Jerry Mayer with 247 sports said in March "I like the sort of physical pop and athleticism that Bone has….So I really am high on him. I did not expect him to be a first-round pick (coming out of high school). I looked at the mock drafts and didn't find him anywhere. Maybe I'm off on that, but I wouldn't be surprised, you know they're not drafting off the mock draft. So I think he's a first-round pick."
Kyle Alexander
Kyle has been a huge asset for this team, and its success has often been linked to how well he plays. He will enter the NBA Draft after graduating from UT, and he will leave the program 2nd in career blocks (185) and 5th in offensive rebounds (287). He has had an up-and-down season, and right now is not projected to go in the first two rounds. He has the physical attributes to be an NBA player at 6'11, 222 lbs. If he can prove he can be a solid contributor to a team and improve on a mid-range shot, then Alexander could see his name called earlier than expected.
---
Written by Dylan Vogel, ESPN Chattanooga Contributor