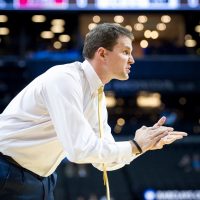 Former Chattanooga Mocs and active LSU head basketball coach Will Wade has been under fire for a wiretap that has incriminated him for recruiting violation at LSU. A recent transcript has been released by Yahoo Sports.
The calls from 2017 that have been released has been between Wade and basketball middleman Christian Dawkins. Wade is noted for speaking freely of an "offer" to a specific recruit and his family.
According to Yahoo Sports:
"I was thinking last night on this Smart thing," Wade said. "I'll be honest with you, I'm [expletive] tired of dealing with the thing. Like I'm just [expletive] sick of dealing with the [expletive]. Like, this should not be that [expletive] complicated."

"Dude," Wade continued to Dawkins, referring to the third party involved in the recruitment, "I went to him with a [expletive] strong-ass offer about a month ago. [Expletive] strong.

"The problem was, I know why he didn't take it now, it was [expletive] tilted toward the family a little bit," Wade continued. "It was tilted toward taking care of the mom, taking care of the kid. Like it was tilted towards that. Now I know for a fact he didn't explain everything to the mom. I know now, he didn't get enough of the piece of the pie in the deal."

Dawkins responded by saying, "Hmmmm."

"It was a [expletive] hell of a [expletive] offer," Wade continued. "Hell of an offer."

"OK," Dawkins said.

"Especially for a kid who is going to be a two- or three-year kid," Wade said.
Dawkins is also known for, according to ESPN citing court records, making several calls to Javonte Smart. Several calls were made to Smart, all of which were made between June 19 and June 30, 2017. Smart announced his commitment to LSU via Twitter on June 30, 2017.
The tape does not mention specifics of payment or any deal made, but it is inferred that the FBI has more incriminating evidence against Will Wade and Christian Dawkins. This evidence will be entered into the second trial on April 22nd. Subpoenas are also currently being filed for both Wade and Arizona coach Sean Miller.
Written by Dylan Vogel, ESPN Chattanooga Contributor