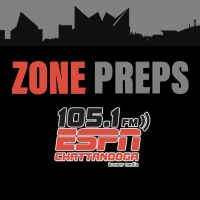 Four local teams advance to TSSAA State Basketball Tournament in Murfreesboro
The Brainerd Panthers are headed back to the mid-state once again for a shot at a state title. They took down York Institute at home, 49-46, in a tightly contested game. The Panthers have now won 4 in a row since dropping the district championship game to Tyner a couple of weeks ago. Brainerd had three players score in double figures, with LaDerron Freeman leading all scorers with 15. Also in 2A action, the Howard Hustlin' Tigers advanced on to the state tourney with a 64-56 win at Watertown.
A class up in 3A, the Cleveland Blue Raiders clinched their first state tourney berth in 14 years, beating Blackman 49-42 at home. The win marks the Blue Raiders 21st consecutive win, dating back to a December loss to Oak Ridge. JaCobi Wood was the game's leading scorer with 16 points, and Isaiah Johnson chipped in 13 as well for Cleveland. The other local 3A team still alive was East Hamilton, as they played on the road at Oakland. The Hurricanes season came to an end, losing a heart-breaker, 61-59. This is their second consecutive exit in the State Sectionals. East Hamilton's Jamaal Walker had an outstanding effort in the loss however, leading all scorers with 29 points.
In girls' action, the Bradley Central Bearettes are headed back to 'The Boro' after defeating Oakland 43-37 at home on Saturday. This is Bradley's 30th state tournament appearance, more than any other girls' program in the state. Anna Walker lead the Bearettes (and all scorers) with 18 points. They will play Lebanon this Thursday, with a shot at the 3A Final Four on the line.
Full Rundown
TSSAA Boys (All scores from Monday)
Class 2A Sectionals
Brainerd 49, York Institute 46
Howard 64, Watertown 56
Brainerd and Howard advance to Class 2A Quarterfinals in Murfreesboro (March 13-16)

Opponents TBD
Class 3A Sectionals
Cleveland 49, Blackman 42
Cleveland advances to Class 3A Quarterfinals in Murfreesboro (March 13-16)

Opponents TBD
Oakland 61, East Hamilton 59
Final Record: 22-10

Region 3-3A Runner-Up
TSSAA Girls (All scores from Saturday)
Class 2A Sectionals
DeKalb County 44, McMinn Central 42
Final Record: 20-14

Region 3-2A Champions
Macon County 69, Meigs County 50
Final Record: 29-4

Region 3-2A Runner-Up
Class 3A Sectionals
Bradley Central 43, Oakland 37
Class 3A State Quarterfinals
Bradley Central (31-3) vs. Lebanon (25-10)
Date/Time: Thursday, March 7th @ 10am CST

Location: Middle Tennessee State, Murfreesboro