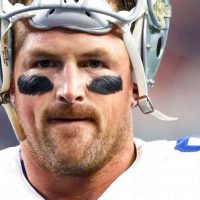 Todd Archer of ESPN, who covers the Dallas Cowboys, has announced that former tight end Jason Witten will be coming out of retirement to play for the Cowboys once again.
"The fire inside of me to compete and play this game is just burning too strong," Witten said in a statement. "This team has a great group of rising young stars, and I want to help them make a run at a championship. This was completely my decision, and I am very comfortable with it. I'm looking forward to getting back in the dirt."
The former Vols' standout leads the Cowboys' franchise in catches, receiving yards, and games played. He retired after the 2017 season when the Cowboys went 9-7, finished 2nd in the NFC East, and missed the playoffs. He spent the last year as the color analyst on Monday Night Football for ESPN. The Cowboys went 10-6, won the NFC East, and made it to the second round in the playoffs during his absence.
This next season will be Witten's 16th career season in Dallas, the only team he has played for. The former tight end-turned broadcaster-turned back to tight end will be making roughly $5 million, according to NFL insider Ian Rapoport. Witten will turn 37 in May.