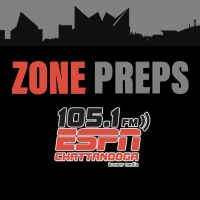 Region basketball tournaments are in full force around the Tennessee Valley as the quarterfinals wrap up, and the TSSAA State Tournaments continue in Division II.
In between dodging raindrops and puddles this weekend, there was a ton of basketball being played on the local front. For hardcore fans of the hardwood, this is undoubtedly the best time of year – basketball overload. So many games, so little time to watch them all.
Almost every local high school in Tennessee had at least a boys' or girls' team playing over the weekend (many schools had both), as the region tournaments now transition to the semifinals this week. Three games are still to played tonight to completely finish up the quarters though, as flooding caused those games to be postponed until tonight.
We did have some state tournament action too in Division II. The Baylor boys' defeated Christian Brothers 65-51 to advance to the DII-AA semifinals. Beyaun Hendricks lead Baylor with 20 points, as the Red Raiders improved to 22-5, and will play Brentwood Academy this Thursday in the Final Four. Both McCallie's and CCS' seasons came to an end in the Elite 8 however. McCallie losing 56-42 to Ensworth, and CCS falling 74-67 to Webb School.
In Georgia, two local teams are left as the GHSA State Tournament moves onto the Elite 8. The Christian Heritage boys' will play North Cobb Christian at home tomorrow night for a spot in the Final Four in Class A-Private action, and the Heritage girls' host Carver-Columbus Wednesday night with the same thing on the line.
Scores from this weekend, and tonight's games
TSSAA Boys
Region 2-1A Quarterfinals
Oneida 61, Lookout Valley 54 (Saturday)
Copper Basin at Harriman (Tonight)*
Region 3-1A Quarterfinals
Gordonsville 75, South Pittsburg 40 (Sunday)
Monterey 77, Whitwell 46 (Sunday)
Region 3-2A Quarterfinals
Howard 63, Sequoyah 36 (Saturday)
Sweetwater 67, East Ridge 30 (Saturday)
Tyner Academy 75, Polk County 42 (Saturday)
Brainerd 65, Loudon 48 (Sunday)
Region 4-2A Quarterfinals
Bledsoe County at Upperman (Tonight)*
Region 3-3A Quarterfinals
Stone Memorial 71, McMinn County 43 (Friday)
East Hamilton 77, Cookeville 62 (Saturday)
Cleveland 85, Rhea County 48 (Sunday)
Bradley Central at White County (Tonight)*
DII-A State Quarterfinals
Webb School 74, CCS 67 (Saturday)
DII-AA State Quarterfinals
Baylor 65, Christian Brothers 51 (Saturday)
Ensworth 56, McCallie 42 (Saturday)
TSSAA Girls
Region 2-1A Quarterfinals
Sunbright 52, Lookout Valley 34 (Friday)
Oneida 78, Sale Creek 25 (Friday)
Region 3-1A Quarterfinals
Clarkrange 78, South Pittsburg 24 (Friday)
Whitwell 60, Trousdale County 58 (Friday)
Region 3-2A Quarterfinals
McMinn Central 63, Brainerd 56 (Friday)
Meigs County 76, Tyner Academy 43 (Friday)
Red Bank 58, Sweetwater 51 (Friday)
Signal Mountain 45, Sequoyah 27 (Friday)
Region 4-2A Quarterfinals
York Institute 54, Bledsoe County 41 (Friday)
Macon County 83, Grundy County 35 (Friday)
Upperman 69, Sequatchie County 30 (Friday)
Region 3-3A Quarterfinals
Bradley Central 63, White County 48 (Friday)
Cookeville 58, Cleveland 54 (Friday)
East Hamilton 56, Rhea County 49 (Friday)
Stone Memorial 66, McMinn County 45 (Friday)
TONIGHT'S GIRLS' GAMES
Red Bank vs. Meigs County (Region 3-2A Semifinals)
McMinn Central vs. Signal Mountain (Region 3-2A Semifinals)
Cookeville vs. Bradley Central (Region 3-3A Semifinals)
East Hamilton vs. Stone Memorial (Region 3-3A Semifinals)
---
Written by Brooks Carter – Assistant Program Director and Zone Preps Host