Most fans have grown accustomed to seeing The Deep South's Oldest Rivalry just a couple short weeks before the Iron Bowl. It made for an entertaining stretch for fans, but a nightmare for Auburn coaches and players.
Since 2013, after the conference realignment, Auburn has had to play both Alabama and Georgia at home or on the road in the same year. Now, according to University of Georgia President Jere Moorhead, the SEC has agreed to move up the date of the Auburn-Georgia game.
The scenario that is reportedly in the works right now is that, beginning in 2020, the Auburn-Georgia game will be moved to an earlier September date. This means that if that happens, the Auburn-Georgia game will switch places with the Georgia-Tennessee game in late September/early October.
As I understand it, the conference has essentially flipped Auburn and Tennessee," Georgia President Jere Moorhead said per quotes from 247Sports. "They had their reasons for doing it…I really defer to coach (Kirby) Smart on those sorts of things".
Discussions to completely finalize the deal with other SEC teams are still underway. The movement would create a domino effect that will likely involve every team in the SEC, and possibly out-of-conference opponents.
The talks of schedule changes should have Auburn fans excited. They no longer have to play both Georgia and Alabama on the road in a three week span every even year, which has been devastating to their season results. The Tigers have not beaten either team on the road since the conference realignment, going 0-8. In years playing both teams at home, they are 4-2. There has not been a season where they split the games, going 2-0 in in 2013, 0-2 in 2015, and 2-0 in 2017. In the '13 and '17 seasons, they reached the SECCG.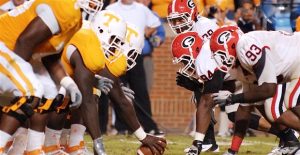 The move to change the game dates around does benefit more teams than Auburn however. Tennessee may be just as big a winner. For the Vols, this would mean swapping the dates of their games against Georgia and Missouri, making Tennessee play Missouri between their match-ups against Florida and Alabama, and the Dawgs between their November games against Kentucky and Vanderbilt. Tennessee has had a front-loaded schedule since before the conference realignment in 2012, and this would alleviate that.
Traditionally, the Vols have played Florida, Georgia, and Alabama in the stretch of one month. This is usually even more daunting when they have a strong out-of-conference opponent to play early, and/or a strong SEC West team also thrown into the stretch. In 2014 for example, the Vols had Oklahoma, a bye, then Georgia, Florida, UTC, Ole Miss, Alabama, and South Carolina before another bye.
Playing Georgia much later in the season and moving Missouri up to a late September date would be extremely beneficial to the Vols. It would balance their schedule out, taking pressure off of their players. It would also spread out each rivalry game, having Florida in September, Alabama in October, and Georgia in November.
Auburn has yet to let it be known which games they are considering switching with, as is Missouri. Each switch with an SEC match-up will result in even more schedule realignment, and too much may either delay the talks until 2024 or stop them all together.
Dates have not yet been announced for SEC games in the 2020 season, but cross-divisional games include Georgia-Alabama, Auburn-Kentucky, and Tennessee-Arkansas.
---
Written by Dylan Vogel, ESPN Chattanooga Contributor