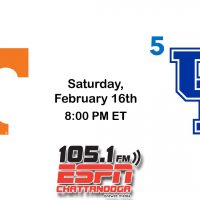 The Preview
---
This Saturday at 8:00 PM ET, the #1 Tennessee Volunteers will travel to Rupp Arena to face the #5 Kentucky Wildcats in what will the first Top 5 matchup between SEC teams since 2003.  In 2003, it was the #2 Wildcats improving to a 20 game win streak and escaping the #3 Gators 69-67.  The Cats improved to 16-0 in SEC with the win.
This Saturday won't be as crucial since we are in the middle of the SEC schedule, but it still carries a massive amount of weight. Like the '03 Wildcats, the Vols will be the higher ranked team visiting another Top 5 opponent that will be looking to spoil a perfect SEC record. Tennessee will also be traveling to Lexington looking to improve their win streak to 20.
ESPN's BPI favors Kentucky at 59.3% to beat the Tennessee since it will be in Rupp. The Vols have yet to play a true road game against a Top 25 opponent, while UK hosted Kansas at home a few weeks ago and nearly won by double digits.
Many things will be on the line Saturday night in this epic showdown. Tennessee will be putting their undefeated SEC record on the line, Kentucky could fall too far behind in the race for the SEC title with a loss, and even an overall No. 1 seed for the NCAA tournament could be at risk.
The Breakdown
---
Tennessee will be coming into the matchup owning not only the nations longest winning streak, but also the SEC's #1 scoring offense. On the other end, Kentucky will be bringing the SEC's #1 defense in points allowed. Against SEC opponents, Tennessee's offense averages 85.6 ppg, while Kentucky is allowing only 61.5 ppg.
Both teams have similar scoring statistics, but Tennessee has the edge in all categories but defensively. Despite that, Tennessee has still outscored their opponents by more—an average of 18 points.
| | | | | |
| --- | --- | --- | --- | --- |
| Team | PPG | FG% | 3PT% | OPP PPG |
| Tennessee | 85.4 | 51.5 | 36.8 | 67.5 |
| Kentucky | 78.4 | 47.5 | 35.3 | 65.5 |
Tennessee
Tennessee's biggest strengths is their experience, chemistry, and their ability to spread the ball. They have two Seniors in Schofield and Alexander, and four Juniors in Williams, Bone, Turner, and Bowden. Their usual starting five has a total of 17 years of college basketball experience, and their 6th man off the bench adds another 3.
This amount of experience has also crafted an unexpected amount of chemistry. You can see it plenty off the court, but you can see examples on the court when during fast-breaks or when Bone or Williams will make a pass to an open area because he know a teammate will be there, and that teammate knows he's going to pass it. Chemistry is a sorely underrated quality, and these Vols have lots of it.
Probably one of Coach Barnes most defining signatures while he's been at Tennessee has been the amount of ball movement by the Vols. The offense doesn't run through the point guard exactly like most offenses. It's why Bone isn't the leading scorer, and why there are five different players averaging double digit points for the season.
| | | | | |
| --- | --- | --- | --- | --- |
| Tennessee | PPG | FG% | 3PT% | APG |
| Grant Williams, F | 19.4 (1st SEC) | 57.9 (2nd SEC) | 30.0 | 3.5 |
| Admiral Schofield, G | 16.7 (5th SEC) | 48.8 (5th SEC) | 40.2 | 2.5 |
| Jordan Bone, G | 13.2 | 45.9 | 30.6 | 6.5 (1st SEC) |
| Jordan Bowden, G | 11.5 | 47.8 | 37.5 | 2.5 |
| Lamonte Turner, G | 11.7 | 46.8 | 37.8 | 3.5 |
| Kyle Alexander, F | 8.5 | 64.3 | 33.3 | 0.7 |
| John Fulkerson, F | 3.7 | 60.0 | n/a | 0.8 |
It's hard to pick out any real weaknesses for this Vols team. You could pick out their lack of three-point shooting as they are ranked 12th in the SEC in 3PTs attempted…yet percentage-wise, they are third in the conference, meaning they can shoot from behind the arc if they need to, they just don't often due to play style and not having to play from behind.
One area the Vols may be able to be taken advantage of could be on the offensive glass. Tennessee is ranked almost dead last in offensive rebounds, while Kentucky is ranked 3rd in defensive rebounds. This could be misleading however, as the Vols are also shooting almost 52% from the field on the season. That is likely skewing the stats against Tennessee, but with Kentucky coming into the game as the conference's best defense, it is not guaranteed the Vols will be shooting +50%. They will need to be able to win the battle on the boards if that's the case.
Kentucky
Kentucky had its 10-game winning streak snapped by LSU on Tuesday after a 73-71 thriller. With the win, LSU jumped ahead of Kentucky in the conference standings and put Kentucky two games behind the #1 Vols. The Wildcats will be looking to avoid two straight losses in Rupp Arena.
It has been an up and down year for Kentucky, but as usual they seem to be getting closer to reaching their potential. They have gone 9-2 with losses to Alabama and LSU. Outside of conference play, they lost to Duke by 34 points and lost to Seton Hall in OT.
The biggest difference between Kentucky and Tennessee? Kentucky has a much younger group of starters, but they are all highly touted recruits rated recruits. PJ Washington and Nick Richards are 5 star Sophomores, EJ Montgomery, Ashton Hagans, Keldon Johnson, and Immanuel Quickley are 5 star Freshmen, and Tyler Herro is a 4 star Freshmen. Their past two classes have been ranked 2nd nationally and 1st in the SEC. Every single one of Tennessee's starters is a Senior or Junior, and all of them were ranked as 3 stars in recruiting.
| | | | | |
| --- | --- | --- | --- | --- |
| Kentucky | PPG | FG% | 3PT% | APG |
| PJ Washington, F | 14.4 (10th SEC) | 51.3 (3rd SEC) | 43.1 (3rd SEC) | 1.8 |
| Keldon Johnson, G | 14 | 48.3 | 40.7 (8th SEC) | 1.5 |
| Tyler Herro, G | 13.3 | 45.5 | 35.4 | 2.3 |
| Reid Travis, F | 11.6 | 51.9 | 27.3 | 0.9 |
| Ashton Hagans, G | 7.1 | 45.7 | 19.2 | 4.4 (7th SEC) |
| Immanuel Quickley, G | 5.9 | 38.2 | 31.7 | 1.5 |
| EJ Montgomery, F | 4.2 | 46.2 | 25.0 | 0.4 |
Kentucky does not have anyone averaging more than 15 ppg, but they have three players close to it. Washington, Johnson, and Herro all average around 14 ppg and more than 45% from the field. They are also the team's best three-point shooters, but as a team they have attempted even less three-point shots than Tennessee has.
The Wildcats are middle of the pack in most categories, but what they are best at is scoring and rebounding. They are in the top three in the SEC for FG%, ORPG, and DRPG. PJ Washington and Reid Travis average 8 and 7 RPG respectively.
Kentucky also leads the SEC in scoring defense, holding SEC opponents to 61.5 ppg. They have held six opponents to less than 60 points, and only allowed more than 70 in four games. They have also only allowed 39.3% of FGs over that stretch.
Kentucky's reliability on two-point shots could turn from a strength to a weakness against Tennessee. The Vols have the second best two-point defense in the country. If the Wildcats can't score inside against Tennessee's interior, they will need to look outside the arc and rely more on their defense, which that itself will be a tough task for Kentucky.
The Prediction
---
When an unstoppable force meets an immovable object, one has to give. This matchup will feature one of the country's best offenses in Tennessee, and one of the best defenses in Kentucky. Both teams like to move the ball around and center their offenses inside and around the paint instead of relying on three-point shooting. Rebounds and turnovers will be critical, especially Kentucky's ability to get some off the defensive glass.
Kentucky will be home at Rupp, a place they do not lose often. They will be coming off of a loss earlier this week, and losing two in a row at home is indeed rare for the Wildcats. They have more talent, and have better play at defense. However, it will be the #1 team in the country coming to town, as well as an team that has double the experience and can run an offense through any one of five or six guys.
I don't believe Kentucky is equipped to shut down Tennessee's offense, and I don't think they hold much of an advantage in any other category to be able to catch up to them. Tennessee can have five guys in double digits on any given night, and they have two of the SEC's top 5 scorers in Grant Williams and Admiral Schofield.
This Vols team has won before in Rupp, and I believe they will do it again this year.
Written by Dylan Vogel, ESPN Chattanooga Contributor