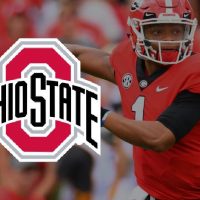 Fields will not have to set out a year after NCAA makes ruling allowing him to play as a true sophomore for Ohio State next season.
Replacing Heisman finalist Dewayne Haskins just got a little easier for the Buckeyes in 2019, as the NCAA has granted a waiver to make the Georgia Bulldog transfer Justin Fields immediate eligibility. He is projected to be their starter next season.
After much speculation about what would happen after Fields and his lawyer applied for the waiver, the NCAA made the decision earlier this afternoon. Fields' lawyer, Tony Mars, was the same lawyer that was able to get former Ole Miss quarterback Shea Patterson immediately eligible at Michigan under a waiver this past season.
In a statement to the media Ohio State head coach Ryan Day said "I am happy for Justin and his family. I also want to express my appreciation to the NCAA for its assistance in getting this matter resolved efficiently and with such a positive outcome for Justin."