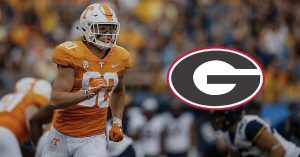 Former Tennessee tight end and team captain Eli Wolf has officially announced he will be transferring to the University of Georgia.
The former Vol was named the most improved offensive player by Jeremy Pruitt and chosen to be the representative for UT at last years SEC Media Days. Wolf, brother of former Vol tight end Ethan Wolf, will graduate from Tennessee in May.
Wolf's decision comes as good news for the Bulldogs, but not a huge hit to the Vols. Georgia is losing Isaac Nauta to the Draft and another tight end to the transfer portal. As a tight end for the Vols, Wolf was used primarily as a blocking tight end. Kirby Smart has told Eli that he thinks he can be a very important weapon in their passing game.
Wolf has recorded only 8 catches for 78 yards and one touchdown for the Vols over his career. Wolf will be looking to beat out the competition to replace Nauta, including senior Charile Woerner, redshirt freshman John FitzPatrick and incoming freshmen Ryland Goede and Brett Seither.
This marks the sixth departure from the Vols this offseason. They have mostly all been reserves — quarterback Will McBride and cornerback Marquill Osborne have transferred, offensive linemen Devante Brooks and Tanner Antonutti moved onto medical scholarship after injuries ended their careers, and underclassman linebacker Quart'e Sapp declared for the NFL Draft.
Written by Dylan Vogel, ESPN Chattanooga Contributor