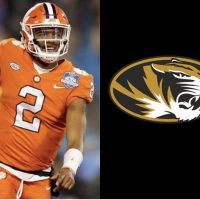 Earlier this morning, the University of Missouri was hit with several sanctions, including a postseason ban for the 2019-20 season. The sanctions came as punishment for a former tutor completing coursework for several student-athletes. Missouri has announced it will appeal the ruling, as it did cooperate with the NCAA during the investigation.
The bowl ban brings intrigue mainly because Missouri had landed Clemson transfer Kelly Bryant over the offseason. Bryant transferred from Clemson as a result of Trevor Lawrence's emergence as the team starter, and wished to transfer to an SEC school where he could increase his draft stock.
Before the idea of Bryant re-transferring could really develop, several sources confirmed that the senior quarterback would indeed remain at Missouri for the 2019 season (per The State). Bryant would have full eligibility to transfer amidst the bowl ban, as any other senior could.
Bryant will look to beat out the competition to be named the successor after the departure of Drew Lock. Bryant was a 3-star dual-threat QB coming out of high school. Over his career he has posted 3333 passing yards, 16 TDs, 10 INTs, and a completion percentage of 66.1.
Bryant went 16-2 as a starter at Clemson, averaging 196 yards/game. He will look to improve on the Tigers' 8-5 record and make a run at a division crown, barring any last minute decision to transfer.
Written by Dylan Vogel, ESPN Chattanooga Contributor