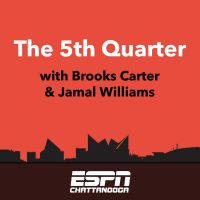 Season 2, Episode 9 of The 5th Quarter with Brooks Carter & Jamal Williams
ON THIS WEEK'S SHOW: Brooks and Jamal discuss an "anonymous" coach saying Nick Saban is overrated, and discuss Klay Thompson's potential to leave Golden State next summer in free agency. Plus they catch up with John Parker Wilson, the new radio color analyst for Alabama Football.
To skip straight to John Parker Wilson, click here: INTERVIEW. To hear the full episode, listen below.
https://soundcloud.com/user-222891908/the-5th-quarter-season-2-episode-9