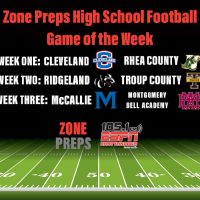 ESPN Chattanooga's Game of the Week will take listeners to three different parts of the region in its first three weeks.
Week One's game will take place at Benny Monroe Stadium in Cleveland, TN, as the Cleveland Blue Raiders play host to the Rhea County Golden Eagles. The Blue Raiders will look to build upon a 7-4 campaign that saw them finish third in Region 2-6A, and advance to the postseason for the fourth time in five years. Although Rhea County played well enough in region play to make their 5th straight playoff appearance, the Golden Eagles struggled overall, suffering their first losing season since 2012. They'll look to bounce back this year.
Week Two will take us to North Georgia as the Ridgeland Panthers host the Troup County Tigers in a very highly anticipated non-region matchup. Ridgeland is coming off back-to-back 6AAAA Region Titles, and is led by new head coach Cortney Braswell. Following the departure of Wes Tankersley, Braswell was hired after orchestrating an impressive turnaround at Chattanooga Central, where he turned an 0-10 team into a 2nd round playoff team in only two seasons. Troup County boasts some of the top players in the country, including Alabama commit King Mwikuta (OLB), Auburn commit Kobe Hudson (WR), Auburn commit Andy Boykin (DE), and Joko Willis (ILB) who holds offers from Arkansas and Kentucky.
Week Three's matchup stays in the Scenic City as McCallie hosts Montgomery Bell Academy at Pete Potter Field. The Blue Tornado return plenty of talent, including their rising Junior QB Deangelo Hardy. A dual-threat, Hardy made great strides as a sophomore, helping lead McCallie to the DII-AAA State Semifinals. MBA returns plenty of talent as well following their State Runner-Up finish, including Vols commit Jackson Lampley (OL), and Nebraska commit Jackson Hannah (OLB).
The high school football season begins August 17th. Coverage of each game will begin at 7pm following the Zone Preps Pregame Show (which will air from 6pm-7pm).