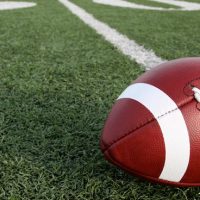 Last year for while working for WRCB-TV, I wrote an "Open Letter to Football Moms Everywhere" for Mother's Day, commemorating the special bond and sacrifices that make football moms so different and so great.
This year, I thought it was time I gave the football dads out there their due as well, because where would we have ever been as football players without dad or a father-like figure?
---
Dear Football Dads,
The bond between a father and son that plays football is something that I will cherish for the rest of my life. Men have always had a weird way of expressing their emotions with each other (or perhaps not even doing it at all). Football was, has, and will always be a way that we can do that, and will always be a special part of our relationship. I often think back to when I was still playing, and how that portion of my life will always resonate with me; you were a big part of that.
Thank you for:
Teaching me how to throw and catch a football

Never saying no to playing catch in the yard

All those years you coached me in rec league

Teaching me to remember the snap count, and that if I didn't, it resulted in push-ups

Continuing to be a mentor, even when you weren't coaching me anymore

Showing up to two-a-days with cold drinks (those always came in handy)

Literally never missing a game, no matter the day, time, or distance (I knew that I could always count on seeing you and mom in the bleachers)

Staying out until dark catching my snaps (I was a long snapper)

Allowing my coaches to do their jobs, and being supportive of their decisions

Challenging me to be better, and making me tougher on and off the field

Letting me know that it's okay to lose, and that's it okay to fail, but it's how you respond to that that truly defines your real character

Using this great game to instill lifelong lessons, that I will pass down to my own children some day

And finally… teaching me how to be a man, and NEVER giving up on me our my dreams
Happy Father's Day
Yours Truly,
Brooks Carter
A grateful son & former football player
Brooks is the Assistant Program Director and host of Zone Preps for ESPN 105.1 The Zone. You can follow him on Twitter @BrooksACarter