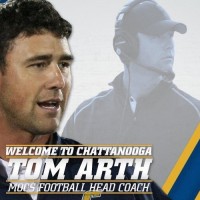 On Sunday afternoon, WCIV-TV sports anchor and reporter Tom Stoltzfus tweeted that the University of Tennessee at Chattanooga was set to hire D-III John Carroll University head football coach Tom Arth to the same position. As it turned out, Stoltzfus' sources were accurate. Less than twenty-four hours later, UTC Vice Chancellor and Director of Athletics David Blackburn officially announced Arth's hiring as the 23rd head coach of the Mocs football program.
Arth was most-recently the head coach at D-III John Carroll University in Cleveland, Ohio and was named NCAA Division III National Coach of the Year after leading his alma mater to an impressive 12-2 overall record in 2016 and an appearance in the D-III semifinals. Arth's JCU teams went 40-8 in his four-seasons at the helm.
Arth was introduced on Tuesday at a noon press conference on the UTC campus. Later in the day, Arth dropped by the ESPN Chattanooga studio to join Press Row for a few segments.
The podcast can be listed to at the audio player below.
Segment 1
Segment 2
Segment 3
Segment 4