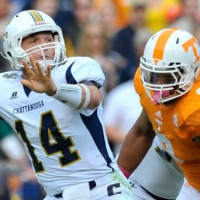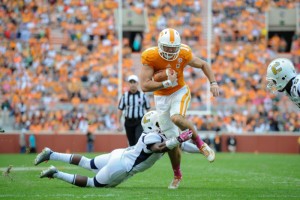 The Chattanooga Mocs are headed back to Knoxville, Tenn. The Mocs and Vols agreed on a contract to meet on the gridiron on Sept. 14, 2019.
It will be the 41st meeting between the two, and the first since Oct. 11, 2014, a 45-10 loss in Neyland Stadium. Tennessee leads the series 36-2-2 with Chattanooga claiming wins in 1905 (5-0) on Chamberlain Field and 1958 (14-6) in Knoxville.
It is the second non-conference game slated for the 2019 campaign with the squad traveling to Jacksonville State on Aug. 31. UT joins LSU (2017) and Kentucky (2018) as future SEC opponents for the program.
Future Schedules
2017   Sept. 2           at Jacksonville State
Sept. 9           at LSU
Sept. 16         UT Martin
2018   Sept. 1           Tennessee Tech
Sept. 15         at UT Martin
Nov. 17          at Kentucky
2019   Aug. 31          at Jacksonville State
Sept. 14         at Tennessee
2020   Sept. 5           at Western Kentucky