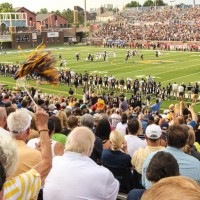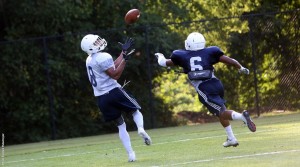 The University of Tennessee at Chattanooga football team enters the 2016 campaign with the highest preseason national ranking in school history.  UTC checks in at No. 6 in the STATS FCS Poll and No. 7 in the FCS Coaches Poll.  These are the two rankings officially recognized by the NCAA.
The Mocs return 46 lettermen from last year's team that went 9-4 and won its third-straight SoCon title.  That is the most returning from one season to the next in Russ Huesman's tenure.
Chattanooga has five individuals who earned at least one preseason All-American honor, including seniors Derrick Craine (RB), Keionta Davis (DL), Corey Levin (OL), Nakevion Leslie (LB) and junior Lucas Webb (DB).
Davis is the preseason SoCon Player of the Year and on the STATS FCS Defensive Player of the Year Watch List.  Craine is on the STATS FCS Offensive Player of the Year Watch List.
Five-time defending national champion North Dakota State holds down the top spot in the STATS Top 25.  The Bison are followed in the top five by Sam Houston State, which earned two first-place votes; Jacksonville State, which earned the other four; Richmond and Northern Iowa.
The rest of the Top 10 is No. 6 Chattanooga (9-4), which is picked to win the SoCon title again; Charleston Southern (10-3), the defending Big South champ; South Dakota State (8-4) from the Missouri Valley; William & Mary (9-4), a defending CAA co-champ; and Illinois State (10-2), a defending Missouri Valley co-champ.
In the Coaches Poll, Charleston Southern is one spot ahead of UTC.  SoCon foe The Citadel is No. 15 in both rankings.  Wofford, Western Carolina and Mercer also received votes.
A national panel of sports information and media relations directors, broadcasters, writers and other dignitaries select the STATS FCS Top 25. In the voting, a first-place vote is worth 25 points, a second-place vote 24 points, all the way down to one point for a 25th-place vote.
The Top 25 is released every Monday afternoon during the regular season, except for Sunday morning, Nov. 20, prior to the selection of the 24-team FCS playoff field. A final Top 25 will follow the FCS championship game, which will be held Jan. 7 in Frisco, Texas.
The FCS Coaches Poll is based exclusively on a voting panel of head coaches in the FCS under the cooperation of the Collegiate Commissioners Association (CCA) and the American Football Coaches Association (AFCA) and is administered by the Southern Conference.
Others Receiving Votes: Youngstown State (393) , Fordham (385) , Harvard (294) , Eastern Kentucky (189) , Southern Utah (162) , Eastern Illinois(151) , Central Arkansas (136) , Duquesne (75) , Alcorn State(62) , Grambling State (59) , Weber State (49) , Penn (46) ,Bethune-Cookman (43) , Wofford (43) , Dartmouth (37) ,Western Carolina (36) , Liberty (36) , Lamar (28) , Montana State (26) , Delaware (25) , South Dakota (17) , Maine (14) ,Dayton (10) , North Carolina Central (10) , Mercer (10) , Prairie View A&M (9) , UT Martin (7) , Samford (7) , South Carolina State (5) , Bryant (4) , Indiana State (3) , Kennesaw State (3) ,Southeast Missouri State (2) , Tennessee State (2) , Stony Brook(2) , Southern Illinois (1) , San Diego (1) , Northwestern State (1) , Saint Francis U (1)
Preseason FCS Coaches Poll (August 8, 2016)

Points

2015 Final

2015 Record

Team (First-Place Votes)

1

North Dakota State (25)

625

1

13-2

2

Sam Houston State

555

4

11-4

3

Jacksonville State

547

2

13-2

4

Richmond

539

3

10-4

5

Northern Iowa

515

6

9-5

6

Charleston Southern

455

7

10-3

7

Chattanooga

433

8

9-4

8

Illinois State

426

5

10-3

9

McNeese State

377

9

10-1

10

William & Mary

363

12

9-4

11

James Madison

349

11

9-3

12

Portland State

305

10

9-3

13

Montana

264

14

8-5

14

South Dakota State

263

16

8-4

15

The Citadel

261

15

9-4

16

Colgate

195

13

9-5

17

Eastern Washington

187

N/A

6-5

18

Northern Arizona

129

N/A

7-4

19

Harvard

127

20

9-1

20

Fordham

111

19

9-3

21

North Dakota

104

N/A

7-4

22

Villanova

89

N/A

6-5

23

Southern Utah

85

18

8-4

24

Western Illinois

81

22

7-6

25

North Carolina A&T

79

21

10-2
Others Receiving Votes: Eastern Illinois 70, Eastern Kentucky 70, New Hampshire 60, Towson 56, Bethune-Cookman 51, South Carolina State 49, Youngstown State 40, Dartmouth 37, Montana State 31, Liberty 25, Jackson State, 24, Southeastern Louisiana 17, Southeast Missouri State 17, Monmouth 16, Samford 16, Penn 10, North Carolina Central 8, Alcorn State 8, Stephen F. Austin 5, Duquesne 5, Weber State 5, Dayton 4, San Diego 3, Prairie View A&M 3, South Dakota 3, Grambling State 2, Wofford 2, Bryant 1