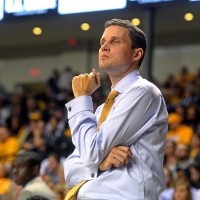 Virginia Commonwealth University men's basketball coach Will Wade made his return to ESPN 105.1 The Zone's airwaves Monday afternoon during Press Row. The segment podcast is available at the audio player below.
Will Wade on Press Row
Monday, March 14
Much like his successor at UTC, Wade also has his team in the NCAA Tournament in his first season at the helm. Under Wade, VCU compiled a 24-10 overall record and a 14-4 mark in Atlantic-10 play. The Rams head into the NCAA Tournament with an RPI of 31, trailing only Dayton and Saint Joseph's in the A-10.
Wade's teams produced a 40-25 overall record and won nearly eighty-percent of their games against Southern Conference foes (27-7, .794%) during his two-season stint in Chattanooga from 2013-15. Although Wade's UTC teams failed to qualify for the NCAA Tournament, he is credited with recruiting the majority of the contributors on this year's UTC team, which earned a No. 12 seed and will play fifth-seeded Indiana at 7:10 p.m. ET on Thursday in Des Moines, Iowa. The game will be broadcasted on CBS.
VCU, a 10 seed, will play seventh-seeded Oregon State in first round play at 1:30 p.m. ET on Friday in Oklahoma City. Turner Network Television will have complete in-game coverage.