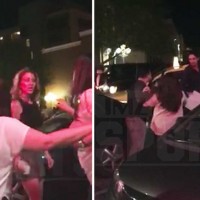 A video has surfaced of NFL quarterback Brock Osweiler pushing a women who approached him and his wife from behind. The video, which can be viewed below courtesy of TMZ Sports, took place in front of Joe's Pizza in Scottsdale, AZ around 2 a.m. early Saturday morning. Critics are questioning Osweiler's actions, while others are applauding him for protecting his wife and not retaliating when a male bystander pushed him as he attempted to walk back to his vehicle.
You be the judge. Were Osweiler's actions out of line? Or was he simply being a good husband and protecting his wife?
Osweiler is currently being courted by the Denver Broncos, Houston Texas and other teams according to multiple outlets.
Video courtesy of TMZ Sports