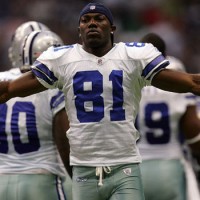 Former NFL wide receiver Terrell Owens joined Press Row this afternoon on ESPN 105.1 The Zone.
The podcast is available towards the bottom of this page.
Owens' name made headlines last week when he was snubbed by Hall of Fame voters, in his first year of eligibility. Retired NFL stars Kevin Greene, Marvin Harrison, Orlando Pace, Ken Stabler, Dick Stanfel and Brett Favre did enough on the gridiron to be enshrined in 2016 Pro Football Hall of Fame class. According to voters, apparently T.O. did not. The former big-play threat hauled in 1,078 passes for 15,934 yards and 153 touchdowns during his fifteen year NFL career. He is second all-time in receiving yards, sixth in catches, and third all-time in receiving touchdowns.
Former Buccaneers and Colts head coach Tony Dungy and former San Francisco 49ers owner Eddie DeBartolo Jr. were also inducted.
Terrell Owens on Press Row
Thursday, February 18