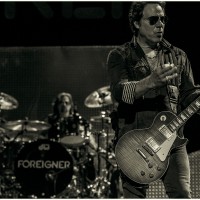 Tom Gimbel, rhythm guitarist and backup vocalist for the world renowned rock band Foreigner, joined Press Row on Wednesday during a tour stop in New York. Gimbel talked about his time with Aerosmith from 1989-1995, his appearance in Wayne's World 2, his love of Boston sports, and much more.
Foreigner will perform at the Tivoli Theater in Chattanooga on Tuesday, March 1. The show starts at 8:00 p.m. EST. Tickets are available for purchase on the Tivoli's website.
You can listen to the full segment using the audio player below.
Tom Gimbel on Press Row
Wednesday, February 17