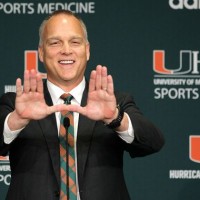 It's official. Mark Richt is the new head football coach at the University of Miami. Richt, known for his long stint of success with the Georgia Bulldogs, was introduced this morning at a press conference in front of administrators, media and a group of former Miami football players. Heisman Trophy winner Vinny Testaverde and former All-American linebacker Jonathan Vilma were among the former Miami players in attendance, both were involved in the process to select Richt as Miami's new head coach.
Richt won 74 percent of his games at Georgia and racked up nine double-digit win seasons in the process. Under Richt, Georgia won Southeastern Conference titles in 2002 and 2005, but failed to take home the SEC crown during his final ten seasons in Athens. Richt leaves Georgia with 145 wins, second only behind Vince Dooley (201).
Mark Richt joined the Dan Le Batard Show with Stugotz this morning on ESP 105.1 The Zone. You can listen to that interview using the audio player below.
Mark Richt on The Dan Le Batard Show
Friday, Dec. 4th