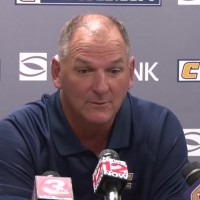 University of Tennessee at Chattanooga head football coach Russ Huesman joined Press Row on Monday for his weekly appearance on ESPN 105.1 The Zone. On Saturday, the Mocs came up just short on the road in a 17-14 loss at Mercer. It was Chattanooga's second loss of the season and the team's first league loss of the 2015 season. Jacob Huesman and Derrick Craine combined for 214 rushing yards. Huesman scored twice on the ground and C.J. Board caught five passes for 95 yards. However, the Mocs turned the ball over four times and lost the turnover battle 4 to 1. Two of UTC's four turnovers were Jacob Huesman interceptions, the other two were lost fumbles.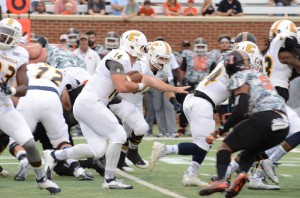 Chattanooga entered Saturday's contest ranked No.3 in the FCS poll. After the loss, the Mocs moved back five spots in the latest FCS Poll to No.8 and came in at No.9 this week in the Coaches Poll.
UTC (7-2, 5-1) will face The Citadel (7-2, 6-0) this Saturday on Military Appreciation Day at Finley Stadium. Kickoff is scheduled for 2 p.m. eastern. The Citadel has morphed into the class of the SoCon after members of the media predicted the Bulldogs to finish 7th in the league at SoCon Media Day last summer. The Bulldogs' last loss came on Sep. 26 at the hand of Charleston Southern, a team that currently holds a (8-1, 5-0) record out of the Big South conference. The Citadel's other loss this season was to FBS Georgia Southern a week earlier.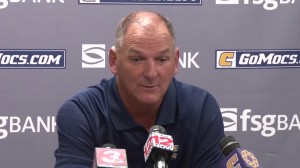 Huesman Quotes on The Citadel
"The Citadel is playing like we played last year, with a chip on their shoulder."
"They're playing extremely hard and physical and it looks like they're having fun doing it."
"The triple option is hard to prepare for, but their defense is what's impressed me the most…they're creating a ton of turnovers."
"The Citadel is the most well rounded team we've played all year."