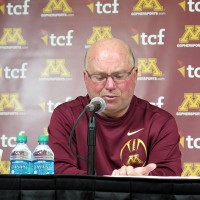 An emotional Jerry Kill announced his retirement on Wednesday after spending the last four and half seasons as head coach of the Minnesota Golden Gophers. Kill's retirement is effective immediately due to medical concerns.
Kill, 54-years-old, has been dealing with the adverse effects of epilepsy since 2005, when he was the head football coach at Southern Illinois. On Wednesday, Kill said he had suffered two seizures before attending practice on Tuesday and has had several seizures over the past year.
When asked to elaborate on his decision to retire, Kill said, "I don't want to be a liability. I don't want somebody to have to worry about if I'm going to drop on the field. I don't want to coach from the press box. I want to coach the way I coached my whole life. Kill went on to say, "I don't have any more energy. None. I've left it all here in the great state of Minnesota. And I have no regrets.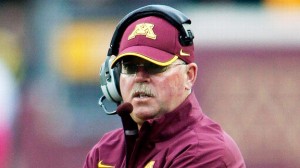 In 2013, Kill missed a total of seven-games when he was forced to take a leave of absence after a string of seizures. He made the decision to step down Wednesday at the advice of his doctor.
"This is not the way I wanted to go out," Kill said. "But you all know about the struggles. And I did my best to change. But some of those struggles have returned. And I don't want to cheat the game. And I ain't going to change."
"I know somebody will ask, 'Coach, what are you going to do?' I don't know. I ain't done anything else. That's the scary part."
Defensive coordinator Tracy Claeys has been named interim head coach. Claeys filled in for Kill during his seven-game absence in 2013 and led Minnesota to a 4-3 record.
Kill finishes his stint at Minnesota with a 29-29 overall record. He led the Golden Gophers to back-to-back eight-win seasons in 2013 and 2014. Kill's Minnesota teams reached a bowl game in three of his four complete seasons.
Currently, Minnesota is 4-3 overall and 1-2 in BIG TEN play. The task is tall, but the Gophers have a chance to become bowl eligible for the fourth consecutive year. Minnesota hosts No.15 Michigan on Halloween night, and both No.1 Ohio State and No.10 Iowa still remain on the schedule.