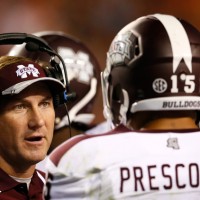 Mississippi State head football coach Dan Mullen took some time to chat with Press Row hosts David Paschall and Jay Greeson this afternoon on ESPN 105.1 The Zone.
The Bulldogs spent an entire month atop the College Football Playoff's rankings last season after beating Auburn 38-23 on Oct. 11 in front of a home crowd at Davis Wade Stadium in Starkville. From there, Mississippi State followed with three consecutive wins over Kentucky, Arkansas and UT Martin to advance to 9-0. Mississippi State's first blemish of the 2014 season came on Nov.15 in Tuscaloosa when Alabama handed the Bulldogs a 25-20 loss. Mullen's boys got back on track the next week with a 51-0 dismantling of Vanderbilt, but fell to rival Ole Miss 31-17 in the Egg Bowl and were outscored 49-34 in a shootout with Georgia Tech in the Orange Bowl.
Despite dropping three of four games to end the season, Mississippi State managed a 10-3 overall record and a 6-2 conference mark. The 2014 season will go down as one of, if not the most, memorable season in MSU football history.
In 2015, Bulldogs face an uphill battle. Mullen returns a total of just eight starters and his team was picked to finish 7th in the western division of the Southeastern Conference by the media at SEC Media Days in Hoover, AL earlier this month.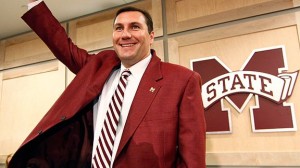 Dan Mullen on Press Row
Thursday, July 23rd